Private Residential Project based on the Isle of Man. Working with the client at the conception of the project the studio assisted in the design of both the interior layout and the specification of all exterior architectural finishes. The Clients brief was for the studio to create a timeless interior with a classic modern feel for the main Georgian Building and a more Contemporary Interior for the barn housing the kitchen / super-room. The studio worked with the contractors and managed the sub contractors assisting with the delivery of the finished design and interior specification.
Creating a large family home it was important to have a feeling of connection within the interior spaces. The principal for the layout is that you to have a line of site through the building. When entering the house and standing in the main hallway you have uninterupted view out to the exterior feature landscaped areas and garden Scupltures bringing direct connection from interior to exterior. This experience is also found from the front to the rear of the property whene you can view directly through the house to the rolling lawn and hills in the background.

The impressive hallway features rich walnut herringbone flooring and soft toned painted wood paneling offset by the classic cornice moulding. The stair case sweeps down into the hallway and has a polished piano black tread and bespoke crafted runner. The hallway itself is adorned with contemporary art and sculptures and has a feeling of an a gallery. These sit beneath the light of the Rain chanderlier created from 36 indivual glass pendants staggering down at different heights to create a lucid rain effect.
Designing all the cabinetry for the house we were able to create wall systems, wardrobes and a large master dressing room. Choosing to remove the wall between the formal Lounge and Dining Areas and replace them with two bespoke oprn floor to ceiling bookcases we are able to reate the feel of intamcy in both spaces without interrupting the flow. Bespoke wall cladding was added into the kitchen / superroom which houses an original piece of art sourced form an gallery in italy. Neon art works adorns the ciminma room.

The interior of each room was designed to reflect the clients taste and requirements from the space. Each room has a unique bold look and feel. Strong accent colours add personality and are are then balanced by softer tones used in the wall décor and soft furnishings. Feature wall covering is mixed into certain areas and concealed lighting was used to add an element of subtle drama. Art work was selected to dress the interior wall throughout the property and the house was fully staged before being handed over to the clients ensuring that it had homely finished feel.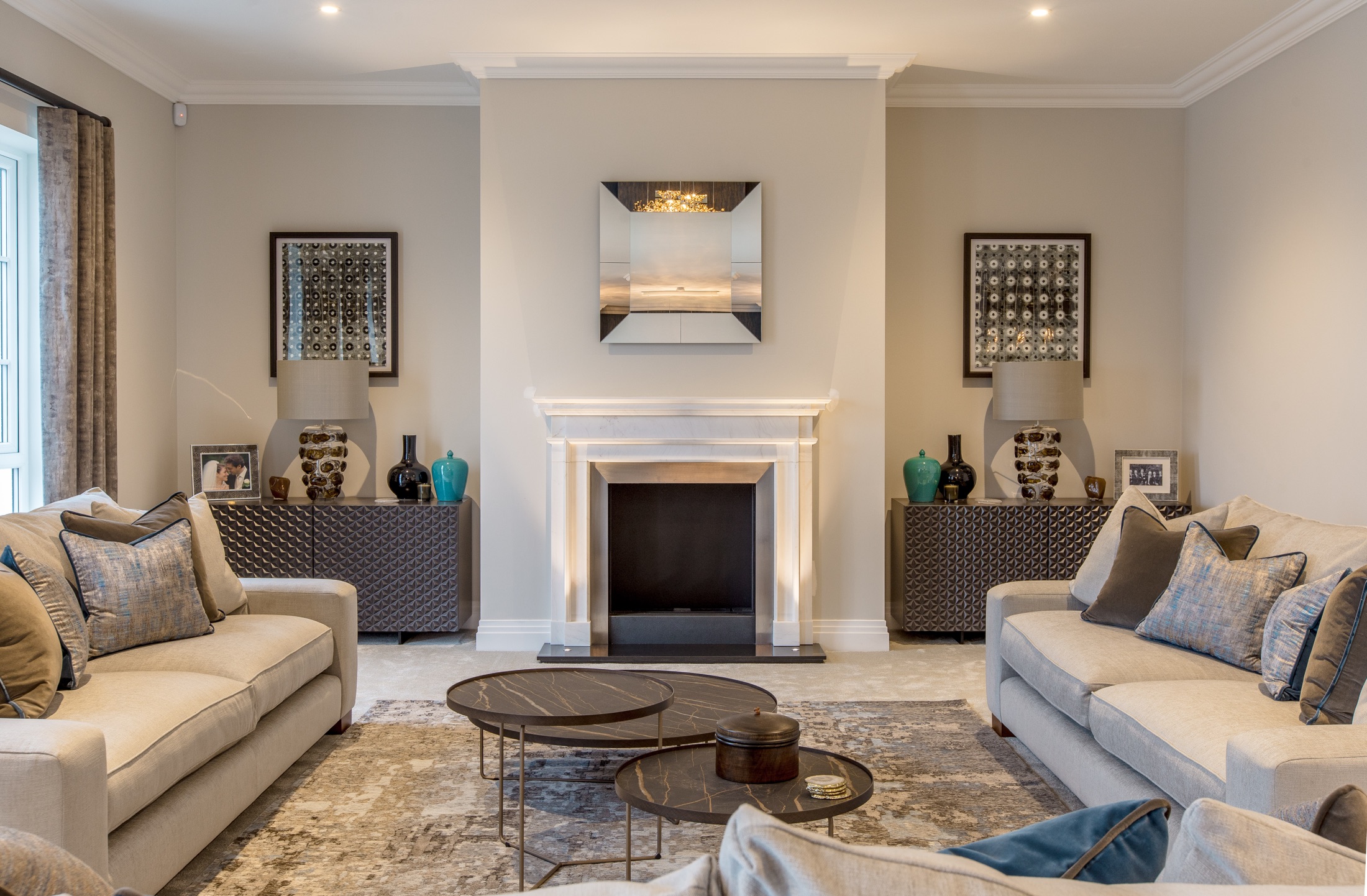 If you'd like to chat about your next project, please do get in touch...
+44 (0)1624 662140
hello@rumana.co.uk
___
Rumana Swinton Design Ltd
Falcon House
Ridgeway Street
Douglas, Isle of Man
IM1 1RS
Opening hours:
Mon - Fri 10am – 6pm
Sat by appointment
Sun closed